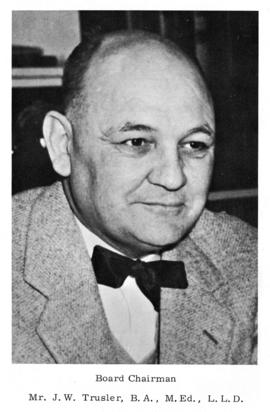 CA ON00408 F028
Fonds
1954-1971, predominant 1958-1968
Fonds reflects J.W. Trusler's work as Chairman of the Executive Council of the Northeastern University Committee (1959-1960) and as Chairman of the Executive Council of Northeastern University (1960-1967), specifically documenting his leadership in the campaign to establish a university in North Bay that eventually led to the founding of Nipissing College. To a lesser extent, the fonds also documents Trusler's work from 1967 to 1971 as Chairman of Nipissing College's Board of Governors.
Fonds contains one series and consists mostly of correspondence, minutes, agendas, memoranda, reports, programs, media clippings, speeches, and presentations.
Trusler, J. W.