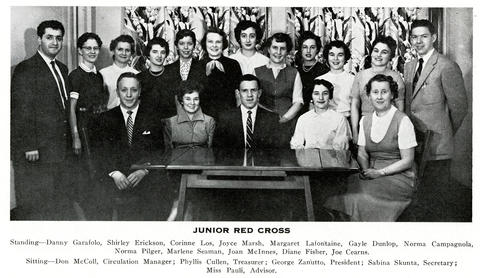 Área de título y declaración de responsabilidad
Título apropiado
Junior Red Cross (North Bay Teachers' College) fonds
Tipo general de material
Documento textual
Material gráfico
Otra información de título
Título declaración de responsabilidad
Título notas
Fuente del título: Title based on contents of the fonds
Código de referencia
CA ON00408 F007
Área de edición
Declaración de responsabilidad de edición
Área de detalles específicos de la clase de material
Mención de la escala (cartográfica)
Mención de proyección (cartográfica)
Mención de coordenadas (cartográfica)
Mención de la escala (arquitectónica)
Jurisdicción de emisión y denominación (filatélico)
Área de fechas de creación
Fecha(s)
1933-1956

(Creación)

Creador

Junior Red Cross (North Bay Teachers' College)
Área de descripción física
Área de series editoriales
Título apropiado de las series del editor
Títulos paralelos de serie editorial
Otra información de título de las series editoriales
Declaración de responsabilidad relativa a las series editoriales
Numeración dentro de la serie editorial
Nota en las series editoriales
Área de descripción del archivo
Nombre del productor
([192-]-[after 1956])
Historia administrativa
The Junior Red Cross was a student service organization at North Bay Teachers' College. It was a branch of the Junior Red Cross organization, which was founded in Geneva in 1919 as the youth arm of the international humanitarian Red Cross movement. Branches of the Junior Red Cross were established around the world and had as a common goal the promotion for youth of health, citizenship, community service, and international understanding. In Canada, branches were mainly established in primary school classrooms under the guidance of teachers. Canadian teacher training institutions also set up Junior Red Cross branches, including North Bay Normal School/Teachers' College. The dates of the establishment and dissolution of the North Bay Teachers' College branch are unknown.
Historial de custodia
Custodial history is unknown.
Alcance y contenido
Fonds documents the North Bay Teachers' College branch's involvement in a Junior Red Cross program in which branches around the world created and exchanged portfolios (scrapbooks) in order to foster international understanding. Each scrapbook contains information about the branch that created it, its home country, city, and institution. The scrapbooks include photographs, drawings, paintings, handicraft samples, newspaper clippings, essays, and descriptions.
Área de notas
Ubicación de los originales
Disponibilidad de otros formatos
Condiciones de uso, reproducción, y publicación
Instrumentos de descripción
Nota general
The image linked to this description (junior_red_cross_1955-1956.jpg) is a group portrait of the members of the Junior Red Cross of North Bay Teachers' College from the North Bay Teachers' College 1955-1956 yearbook, page 37.
Identificador/es alternativo(os)
Puntos de acceso
Puntos de acceso por materia
Puntos de acceso por lugar
Puntos de acceso por autoridad
Área de control
Identificador de registro de descripción
Identificador de la institución
Nipissing University and Canadore College Archives and Special Collections
Reglas o convenciones
Rules for Archival Description (2008)
Fechas de creación, revisión o eliminación
Created November 18, 2014 by Peter Houston
Escritura de la descripción
Objeto digital metadatos
Nombre del archivo
junior_red_cross_1955-1956.jpg
Tamaño del archivo
638.6 KiB
Cargado
13 de enero de 2015 16:05
Objeto digital (Ejemplar original), área de permisos
Objeto digital (Referencia), área de permisos
Objeto digital (Miniatura), área de permisos